Outlook.com Calendar
Google Calendar
Yahoo Calendar
Facebook Calendar
Apple iCalendar
Outlook Calendar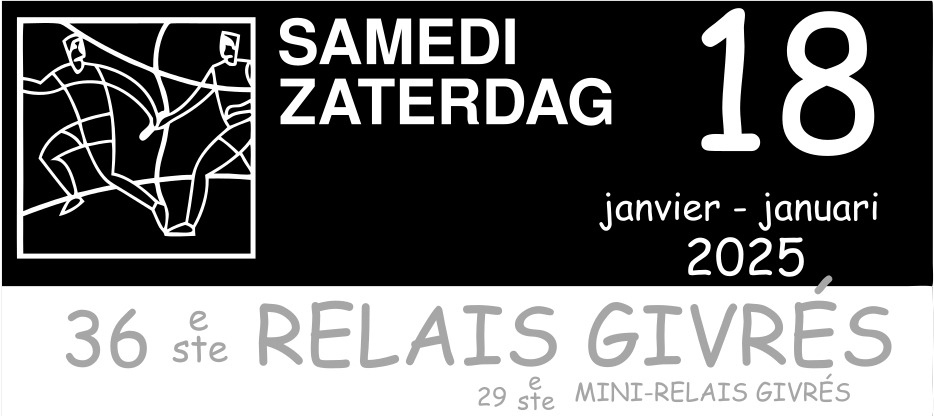 This saturday 18 january 2020 the 33th edition of the Relais Givrés will be taking place, organised by the jogging and triathlon club "Les Lendemains De La Veille".
This competition aims to be :
an event where team spirit takes precedence over individual performance,
an event to meet amongst joggers, friends or colleagues,
an event undertaken in winter conditions.
The concept has the following original features :
five runners, consisting of one lady and one veteran relaying around a hilly countryside course in the Brussels area
each runner in turn running 8 km solo before completing a final grouped lap of 4 km, making the total team distance of 44 km.
A similar concept over shorter distances is offered for children.
The event attracts some 1500 runners and over 1500 spectators.
Support Fondation I See
The Relais Givrés are pleased to announce their support this year of the Fondation I See.
The I See Foundation was founded in 2009. Its aim is to promote the independence and integration of visually impaired people but also to support them in their complete development in our society.
We promote their mobility by providing them a free guide dog. It brings safety and confidence in the travels, but it is also an excellent relational vector.
The I See Foundation also wants to give a new perspective (positive, dynamic and sometimes surprising) on the visual impairment. We encourage visually impaired people to cope with their disability, especially young people, but we also foster those around them and the general public to become aware of their potential (rather than their limitations) and to exploit it.
To this end, we develop different activities for :
Developing autonomy by learning new technologies or with specially developed activities for visually impaired people.
Improving mobility through good management/awareness of oneself and one's space.
Improving self-confidence by participating to overtaking activities and especially by constituting a network of sighted people.
We also regularly participate in sensitization. It is by answering each person's questions without taboo and by creating participatory sensitization that we contribute to train citizens to be open to the difference.
For more information, visit the Fondation I See website.
It is also possible to make a donation directly to the Fondation I See. You will find all the informations about the procedure here: donate to Fondation I See.
Run In Brussels Challenge
A new running challenge was created in 2015 - the « Run in Brussels Challenge ».
For more information and for subscription to the challenge, please visit their website or Facebook page.
Photos Relais Givrés 2019
There are no translations available.
DH.be: 2019 - Relais Givrés : tous soudés pour la réussite de l'événement
There are no translations available.
Sébastien Sterpigny - Publié le - Mis à jour le
Running
Les joggeurs ont terminé le parcours comme prévu avec convivialité et froid.
La 32e édition des Relais Givrés, cette organisation que l'on doit au club de jogging et triathlon Les lendemains de la veille, a une fois de plus tenu ses promesses. Un grand moment de convivialité et des températures proches de zéro pour bien coller au nom de l'événement. De quoi ravir les plus de 250 équipes inscrites pour l'occasion, mais aussi les organisateurs.
"Les Relais Givrés, c'est l'une des courses à pied les plus conviviales de la Région bruxelloise, une course où l'esprit d'équipe passe avant l'exploit personnel. Le secret du succès de notre événement, c'est le principe d'une course à plusieurs, en relais, qui appelle de la solidarité et des encouragements entre les coéquipiers et qui amène donc plein de bonne humeur sur le parcours. C'est l'occasion saisie par des groupes de joggeurs, des membres d'une famille et des collègues pour faire une petite sortie sportive, afin de souder leurs liens dans l'effort", précisent les organisateurs.
Sur le parcours ou dans la zone de départ, les joggeurs se montraient tous impatients d'effectuer leur boucle individuelle et puis de terminer par une boucle en équipe. C'était notamment le cas de Natalia, Benoit, Alexandre, Mathieu et Nicolas, cinq joggeurs venus représenter les couleurs du Racing Club Bruxelles Triathlon. "On a l'habitude de venir ici depuis 4-5 ans et c'est la première fois qu'il fait beau. Grâce au froid, il n'y avait pas de boue sur le parcours et c'est plutôt appréciable", précise Mathieu.
Au-delà du parcours, il y a l'ambiance spéciale des Relais Givrés. De quoi les motiver à revenir d'année en année. "Il y a toujours une chouette ambiance, conviviale, bon enfant et sans prise de tête. Tout le monde est détendu, contrairement à d'autres courses plus stressantes."
C'est aussi l'un des premiers rendez-vous running de l'année à Bruxelles. De quoi s'offrir un petit décrassage après les fêtes. "Ça permet d'évacuer les excès des fêtes pour repartir sur de bonnes bases."
Le tout, en équipe, et pour défendre les couleurs du club. "Nous sommes une cinquantaine de membres du club, répartis aléatoirement dans les différentes équipes, de quoi renforcer les liens entre les membres."
Sébastien Sterpigny