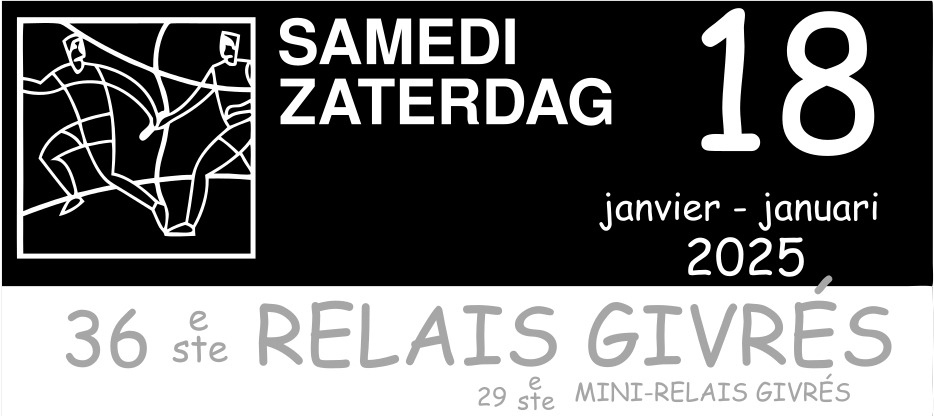 This saturday 20 january 2018 the 31th edition of the Relais Givrés will be taking place, organised by the jogging and triathlon club "Les Lendemains De La Veille".
This competition aims to be :
an event where team spirit takes precedence over individual performance,
an event to meet amongst joggers, friends or colleagues,
an event undertaken in winter conditions.
The concept has the following original features :
five runners, consisting of one lady and one veteran relaying around a hilly countryside course in the Brussels area
each runner in turn running 8 km solo before completing a final grouped lap of 4 km, making the total team distance of 44 km.
A similar concept over shorter distances is offered for children.
The event attracts some 1500 runners and over 1500 spectators.
Relais Givrés 2017 – 30th edition – Thank you !!!
Dear participants of the Relais Givrés 2017, a few short words to say a big thank you!!! This 30th anniversary of the Relais Givrés has been a great success and it's thanks to you - to your friendship, good humour and commitment - whether it be on the sporting front for some or on the festive front for others. For many of you, a fidelity to our event over many years particularly touches us.
Thank you as well for your photos and remarks posted to our Facebook page and our website. This gives us valuable feedback for the race and for our organisation. It helps us to improve certain things, to correct the odd error and enables us to understand what you liked and so what to pursue further.
We are already thinking ahead to the next edition and invite you to mark your calendar for Saturday 20 January 2018 for the start to a new decade of Relais Givrés! We undertake to provide you a scenic course, good communication of information, ambiance and of course some post-race recompense in the form of an original souvenir, a handsome team photograph, tombola prizes and a fully stocked bar!
In the meantime, we wish you an excellent sporting year 2017! A lot of success but especially a lot of fun !!
Yours sportingly,
The organising team and all "Les Lendemains De La Veille"
Support the NPO IMSO (multiple sclerosis)
This year the Relais Gvires supported the charity IMSO which helps Multiple Sclerosis (MS) patients who are cared for at the National Centre for Multiple Sclerosis at Melsbroek.
This charity has the goal of defending the financial, social and administrative interests of MS patients. It aims also to promote the collaboration of MS carers, to improve the fate of MS patients, to organize recreational and instructional activities for the patients and their families and to insure a financial support to those sufferers who require it.
At the time of their registration, 27 teams transferred an extra 5€ as proposed on the website of the Relais Givres. This amount collected (135€) will be transferred to the IMSO bank account. The Lendemains de la Veille club who organize the Relais Givres will transfer for their part 365€ to the charity.
A big thank you to the 27 teams who participated in this initiative, and for those who wish to make a donation to IMSO, they can do so with a transfer to the bank account of the association :
IMSO asbl
IBAN: BE84 3100 4525 7559
BIC: BBRUBEBB
Vanheylenstraat 16, 1820 Melsbroek
For any transfer of 40€ or more, you will receive an attestation allowing for a fiscal deduction
Thank you on behalf of IMSO
Run In Brussels Challenge
A new running challenge was created in 2015 - the « Run in Brussels Challenge ».
For more information and for subscription to the challenge, please visit their website or Facebook page.