Outlook.com Calendar
Google Calendar
Yahoo Calendar
Facebook Calendar
Apple iCalendar
Outlook Calendar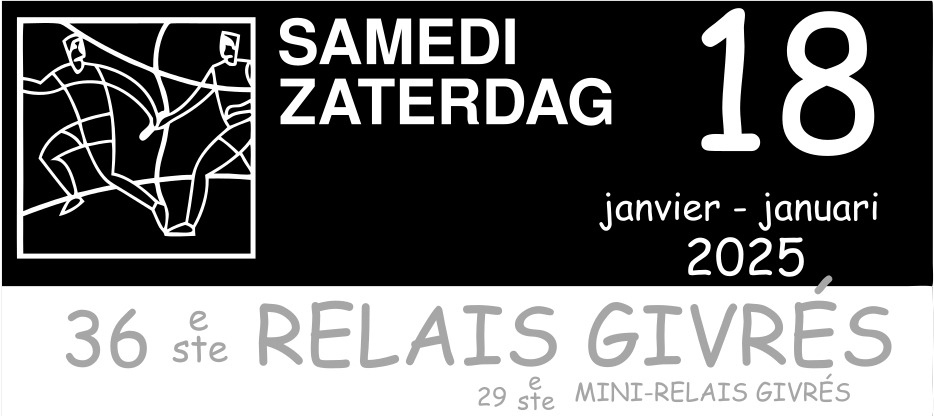 This saturday 19 january 2019 the 32th edition of the Relais Givrés will be taking place, organised by the jogging and triathlon club "Les Lendemains De La Veille".
This competition aims to be :
an event where team spirit takes precedence over individual performance,
an event to meet amongst joggers, friends or colleagues,
an event undertaken in winter conditions.
The concept has the following original features :
five runners, consisting of one lady and one veteran relaying around a hilly countryside course in the Brussels area
each runner in turn running 8 km solo before completing a final grouped lap of 4 km, making the total team distance of 44 km.
A similar concept over shorter distances is offered for children.
The event attracts some 1500 runners and over 1500 spectators.
Support the Belgian Diabetes Association (ABD)
The Relais Givrés are pleased to announce their support this year of the Belgian Diabetes Association (ABD). This clarity supports not only 9000 diabetics but also 3000 paramedics and doctors.
For many years the association has been at the forefront of diabetes screening, increasing public awareness over the illness and reducing discrimination against diabetes sufferers.
The association also informs patients of the importance of finding a good lifestyle balance: respecting their treatment, controlling their blood sugar level of course but also in following a suitable diet and practicing regular physical exercise.
In collaboration with the Relais Givrés, the ABD wishes to draw public attention to this illness and to demonstrate that is perfectly possible for type 1 and type 2 diabetics to participate in a running competition. Taking regular exercise is an important factor in both preventing diabetes and also in controlling the effects for those with the illness.
For more information, visit the ABD website.
It is also possible to make a donation directly to the ABD. You will find all the informations about the procedure here: donate to the ADB.
Photos Relais Givrés 2018
Run In Brussels Challenge
A new running challenge was created in 2015 - the « Run in Brussels Challenge ».
For more information and for subscription to the challenge, please visit their website or Facebook page.